Domestic Violence: Public Policy Concern and Measuring Challenge
Keywords:
domestic violence, public policy measurement, gender inequality, COVID-19
Abstract
As a complex, often recurring phenomenon that risks to remain undeclared, domestic violence is a problem that has been recently approached on its own terms by the Romanian public policy. There are currently several series of statistical data provided by the institutions that are entrusted with fighting domestic violence. The combined analysis of these data creates a puzzling image about the phenomenon. This study includes a diagnosis of the phenomenon over the past years and explores the relationship between public policy and the dynamic of the phenomenon in periods of building up the integrated monitoring system. In apparent contradiction with the qualitative perception of the COVID-19 pandemic as favoring factor, the study identifies the differentiated impact of the pandemic on domestic violence over the period 2020−2021.
Downloads
Download data is not yet available.
References
Alexa, Iuliana. 2020. "Am sunat şi la 112, într-una din seri şi era cât pe aci să primesc amendă pentru că deranjez. Abuzul emoţional nu se vede, bâta da", Republica, 15 sept. 2020 https://republica.ro/zam-sunat-si-la-112-intr-una-din-seri-si-era-cat-pe-aci-sa-primesc-amenda-pentru-ca-deranjez-abuzul-emotional.
Andreasen, Alan. 1994. "Social Marketing: Its Definition and Domain", Journal of Public Policy & Marketing 13 (I) Spring 1994: 108−114.
ANES. 2019. Raport de monitorizare a stadiului implementării Planului operațional pentru implementarea Strategiei naționale privind promovarea egalității de șanse între femei și bărbați și prevenirea și combaterea violenței domestice pentru perioada 2018−2021
ANPF (coord.). 2007. Ghid de intervenție în cazurile de violență în familie (realizat prin cooperare inter-ministerială, prin desemnarea unor experți din diferite domenii și mediul academic), Agenția Națională pentru Protecția Familiei (ANPF), Centrul Pilot de Asistență și Protecție a Victimelor Violenței în Familie (CPAPVVF), Centrul de Informare și Consultanță pentru Familie (CICF), București, august 2007, http://femei.europroject.org.ro/uploads/GHID%20Violenta%20domestica.pdf.
Ashley, Jack. 1973. "Battered wives" HC Deb 16 July 1973 vol 860 cc218−28, http://hansard.millbanksystems.com/commons/1973/jul/16/battered-wives (July 2022).
Atena Delphi/Pulse Bulgaria. 2016. Violența domestică. Vol. III Aspecte psihologice − ce știm despre violența domestică? realizată în cadrul proiectului Meriți să zâmbești din nou, Servicii integrate pentru victime ale violenței domestice Asociația Atena Delphi, Pulse Foundation − Bulgaria, EEA Grants, Fondul ONG, FDSC), Cluj: Napoca Star.
Bonea, Georgiana Virginia. 2016. "Violența asupra femeii în familie" Calitatea vieții, XXVII (2): 127−143.
Carlson, Juliana, Laura Voith, Jejuana Brown, and Megan Holmes. 2019. "Viewing Children's Exposure to Intimate Partner Violence Through a Developmental, Social-Ecological, and Survivor Lens: The Current State of the Field, Challenges, and Future Direction" Violence Against Women 25(1): 6–28. https://doi.org/10.1177/1077801218816187.
CCSAS/ANES. 2019. Studiu național privind prevalența diferitelor forme de violență împotriva femeilor în cadrul proiectului: "Sprijin pentru implementarea Convenției de la Istanbul în România", Contract de finanțare: 16/61710/2018 /29.01.2019 Mecanismul Financiar Norvegian, Programul Justiție 2014−2020.
CPE (Centru Parteneriat pentru Egalitate). 2003. Cercetarea națională privind violența în familie și la locul de muncă, București.
Curic, Irina and Văetiș, Lorena. 2005. Inegalitatea de gen − violența invizibilă: ghid de lucru pentru conștientizarea și eliminarea violenței împotriva femeilor, Cluj-Napoca: Eikon.
Dojan, Sorin. 2021. "Drama femeilor abuzate și eșecul statului român în a le proteja pe timp de pandemie", Societate, 24 oct. 2021 https://romania.europalibera.org/a/drama-femei-abuz-domestic/31521522.html.
EIGE (European Institute for Gender Equality). 2021. The Covid-19 pandemic and intimate partner violence against women in the EU, p. 61, doi:10.2839/959007.
Filia/ ANES. 2021. Experiențele femeilor în timpul pandemiei. Starea de fapt și recomandări pentru măsuri post-criză sensibile la gen, Active Citizens Fund https://coronavirus.centrulfilia.ro/wp-content/uploads/2021/01/Raport_Online.ro-1.pdf (January 2022).
FRA. 2014. Violența împotriva femeilor: o anchetă la nivelul UE. Rezultate pe scurt, Luxemburg: Agenția pentru Drepturi Fundamentale a Uniunii Europene.
GREVIO/Inf(2022)6, Baseline Evaluation Report Romania, Strasbourg: Council of Europe.
Grünberg, Laura (coord.) Rusu, Andreea and Samoilă, Elena. 2019. Barometru de Gen. România 2018, FILIA and CENFORM, București: Hecate.
Ilie, Simona. 2020. "Criza COVID-19: Provocări pentru piața muncii din România" RCV XXXI (2): 157−187.
INSCOP Research. 2013. Barometrul de opinie publică – Adevărul despre România. Violența domestică, pp. 13, 16 https://www.inscop.ro/wp-content/uploads/2013/08/INSCOP.-Violenta-domestica.pdf.
Liiceanu, Aurora, Saucan, Șt. Doina and Micle, I. Mihai. 2004. Violența domestică și criminalitatea feminină, București: Institutul Național de Criminologie http://criminologie.org.ro/wp-content/uploads/2015/08/Violenta-domestica-Studiu.pdf.
Meyer, Silke, Ellen Reeve and Kate Fitz-Gibbon. 2020. "The intergenerational transmission of family violence: Mothers' perceptions of children's experiences and use of violence in the home" Child & Family Social Work, (26): 476–484. https://doi.org/10.1111/cfs.12830.
Mootz, Jeniffer, Lindsay Stark, Elizabeth Meyer, Khudejha Asghar, Arturo Roa, Alina Potts, Catherine Poulton, Mendy Marsh, Amy Ritterbusch and Cyril Bennouna. 2019. "Examining intersections between violence against women and violence against children: perspectives of adolescents and adults in displaced Colombian communities" Conflict and Health, 13−25. https://doi.org/10.1186/s13031-019-0200-6.
Pinheiro, Sérgio Paulo. 2006. World Report on Violence Against Children, Geneva: UN-OHCHR/ UN-CF/ WHO (printed by ATAR Roto Presse SA).
Rațiu, Alina Maria, Hizo-Miloș, Laura Silvia and Budușan, Luiza. 2016. Violența domestică. vol. IV Ghidul victimei violenței domestice, în colaborare cu Pop R., Șereni R. S., Anisie L, realizat în cadrul proiectului Meriți să zâmbești din nou Servicii integrate pentru victime ale violenței domestice Asociația Atena Delphi, Pulse Foundation − Bulgaria, EEA Grants, Fondul ONG, FDSC), Cluj: Napoca Star.
Stead, Martine, Ross Gordon, Kathryn Angus and Laura McDermott. 2007. "A systematic review of social marketing effectiveness." Health Education, 107(2): 126−191. https://doi.org/10.1108/09654280710731548.
Eurostat, date privind nivelul de educație al populației.
Informații privind legislația națională: http://legislatie.just.ro/.
Ministerul Public, Date statistice privind victimele violenței în familie pentru întreg ministerul public (2013−2021), https://www.mpublic.ro/ro/content/date-statistice-privind-victimele-violen%C8%9Bei-%C3%AEn-familie.
ANES – Fișa de monitorizare referitoare la violența în familie la nivel național (2016−2021).
ANES/ HELPLINE – Raport privind activitatea desfășurată de serviciul responsabil de linia telefonică de urgență, rapoarte anuale (2016−2021).
ICPC. 2020. Ordinul de protecție provizoriu impactul asupra violenței domestice și perspective de dezvoltare, IGPR, București.
ICPC. 2016. Studiu privind violența domestică. Cauze specifice ale fenomenului și răspuns instituțional, IGPR, București.
IGPR, Rapoarte de activitate 2017−2020 și Situația statistică a persoanelor si a infracțiunilor prevăzute de legea nr. 217/2003 (2015−2021).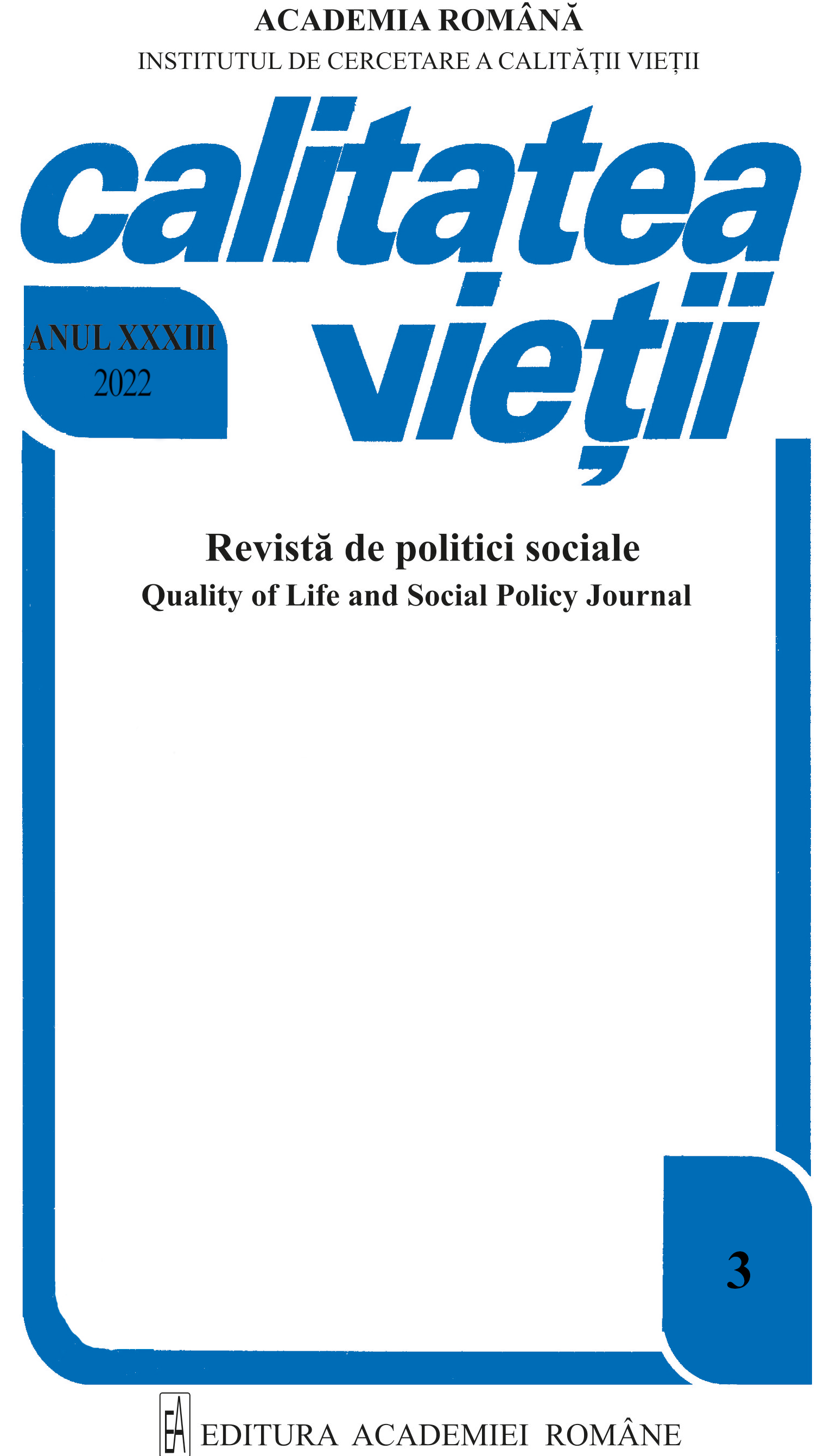 How to Cite
Ilie, S. (2022). Domestic Violence: Public Policy Concern and Measuring Challenge. Calitatea Vieții, 33(3), 1–33. https://doi.org/10.46841/RCV.2022.03.03
Copyright & Licensing
Copyright (c) 2022 Romanian Academy Publishing House
This work is licensed under a Creative Commons Attribution 4.0 International License.