Contextul social, sociologia şi tematica inovaţiei sociale
Keywords:
social innovation, dissemination, assimilation, sociology/ Romanian sociology
Abstract
Social innovation, as all other social topics, comes into the focus of the research not as a phase in the logic of the cognitive reflection, but as a reflex of the emergencies raised out of the dynamic of the collectivities. The social context offers to the topic of social innovation a specific profile. In the Western sociology, this topic started to raise interest only in the last years.
This study identifies nine social contexts that marked the social innovation approach. A distinct attention is given to the present Romanian sociological thinking. I try to answer the question 'why is Romanian sociology about to pay a special attention to the topic of social innovation?' Approaching this topic represents one of the signs that the Romanian sociology is about to leave its present crisis and, in the mean time, it indicates a direction of development.
Downloads
Download data is not yet available.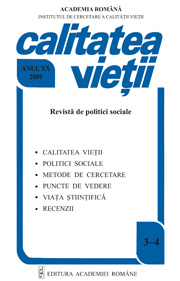 How to Cite
Zamfir, C. (2009). Contextul social, sociologia şi tematica inovaţiei sociale. Calitatea Vieții, 20(1-2), 8–18. Retrieved from https://www.revistacalitateavietii.ro/journal/article/view/451
Copyright & Licensing
Copyright (c) 2009 Romanian Academy Publishing House
This work is licensed under a Creative Commons Attribution 4.0 International License.