Vet as an Education Pathway and the School to Work Transition for Bulgaria's Rural Youth
Keywords:
VET, school to work transition, Bulgarian conditions, life course, rurality
Abstract
This paper focuses on vocational education as a catalyst for the entry of young people from rural areas into the labour market. The analysis presents an assessment of the state of professional training from the point of view of the quality of graduates' practical training and its compliance with the requirements of the labour market. The study presents the perspectives of three types of social entities relevant to entering the labour market – vocational schools, businesses and local government. The purpose of the paper is to highlight the specific features of the assessments and opinions of the various actors in a substantive plan and to present the possibilities generated by professional education, such as creating a link between the supply and demand of skills. The smooth transition from education to employment of young people from rural regions is required to lower the percentage of NEETs in rural settings and to generate a better rural environment.
Downloads
Download data is not yet available.
References
Allmendinger, J. (1989). "Educational systems and labour market outcomes.ˮ European Sociological Review 5 (3): 231−250.
Benneworth, P., Jongbloed, B. W. (2010). "Who matters to universities? A stakeholder perspective on humanities, arts and social sciences valorisation.ˮ Higher Education 59(5): 567−588. https://doi. org/10.1007/s10734-009-9265-2.
du Bois-Reymond, M., López Blasco, A. (2003). "Yo-yo transitions and misleading trajectories: towards Integrated Transition Policies for young adults in Europe.ˮ In A. López Blasco, W. McNeish, A. Walther (Eds.), Young people and contradictions of inclusion: Towards Integrated Transition Policies in Europe (pp. 19–42). Policy Press.
Dahama, O. P. (1979). Extension and rural welfare. New Delhi: Ram Parsad and Sons.
Elder, G. (1998). "The Life Course as Developmental Theory.ˮ Child Development, vol. 69 (1): 1−12.
George, L. K. (1993). "Sociological perspectives on life transitions.ˮ Annual Review of Sociology 19: 353–373. https://doi.org/10.1146/annurev.so.19.080193.002033.
Levi, R., Ghisletta, P., Spini, D., Widmer, E. (2005). "Why look at life courses in an interdisciplinary perspective?ˮ Advances in Life Course Research 10: 3–32. https://doi.org/10.1016/S1040-2608(05)10014-8.
McLoughlin, C., Luca, J. 2002 "A learner-centred approach to developing team skills throughweb-based learning and assessment.ˮ British Journal of Educational Technology 5 (5): 571−582, DOI: 10.1111/1467-8535.00292.
Mitev, P.E., S.Kovacheva (2014) Young People in European Bulgaria. A Sociological Portrait 2014. Sofia: Friedrich Ebert Foundation.
Rama, B. R., Etling, A. W. W., Bowen, B. E. (1993). "Training of farmers and extension personnel.ˮ In R. K. Samanta (Ed.), Extension strategy for agricultural development in 21st century. New Delhi: Mittal Publications.
Sachs, P. (1995) "Transforming Work: Collaboration, Learning, and Design,ˮ Communications of the ACM 38 (9), pp. 36−44.
Simões, F., Brito do Rio, N. (2020). "How to increase rural NEETs professional involvement in agriculture? The roles of youth representations and vocational training packages improvement.ˮ Journal of Rural Studies 75: 9–19. https://doi.org/10.1016/j.jrurstud.2020.02.007.
Walther, A., Stauber, B., Settersten Jr., R. A. (Eds.) (2022). Life Course Research and Social Policies. Springer
The Vocational Education and Training Act (Art. 2) https://lll.mon.bg/uploaded_files/zakon_profesionalnoto_obrazovanie_2015_EN.pdf.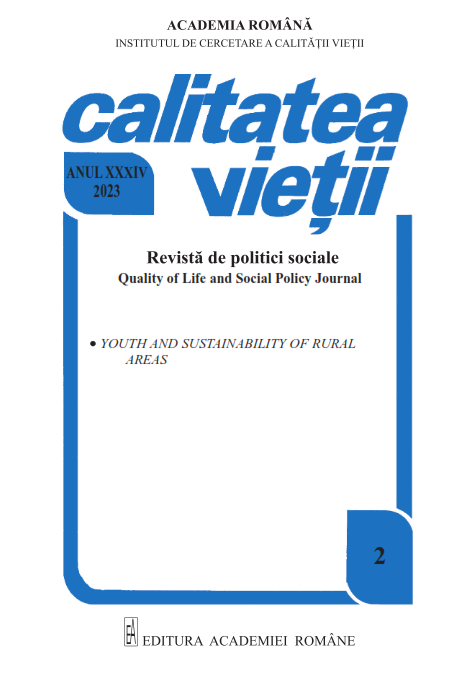 How to Cite
Milenkova, V., Nakova-Manolova, A., & Lendzhova, V. (2023). Vet as an Education Pathway and the School to Work Transition for Bulgaria's Rural Youth. Calitatea Vieții, 34(2), 1–17. https://doi.org/10.46841/RCV.2023.02.02
Copyright & Licensing
Copyright (c) 2023 Romanian Academy Publishing House
This work is licensed under a Creative Commons Attribution 4.0 International License.